Carving Natural Marble Angel Headstone Design for Sale MOKK-63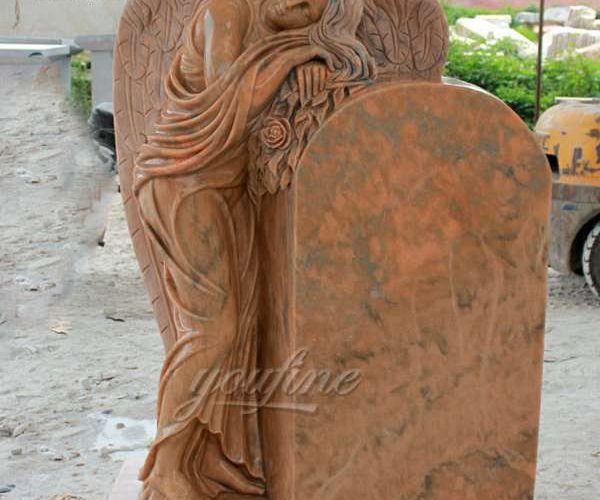 Natural Marble Angel Headstone Design Detail
Natural Marble Angel Tombstone is 150cm high, 50cm wide and 105cm long and is made of high-quality marble. This natural marble design angel tombstone bears a resemblance to the Angel of Sorrow's tombstone that William Wetmore made for his beloved. We were blown away by its beauty and modified the three roses of the angel. Sleeping angel statue holding a single figure in its left hand, elegantly squatting next to the tombstone, with sadness and peace, leaning on the tombstone, fully situated on a granite base.
Advantages of marble headstones
1. The Marble Angel Headstones are polished to give them a smooth and angular appearance.
2. we all carved the tombstones according to the mold, so it was more accurate.
3. We can customize portraits on the headstones, or we can attach ceramic photos.
4. The inscriptions on the tombstones are done by mechanical engraving and are in fine type.
5. All our products are guaranteed to be of high quality. If you have any questions, feel free to contact our staff, we are always waiting for your questions and ready to solve them for you.
6. If you don't like the headstone, please feel free to contact our staff and we can accept custom services.
7. We have quality after-sales service that can relieve your worries.
Related Products
You Fine Art Sculpture has a variety of marble tombstones, such as standing angel tombstones, weeping angel tombstones, Angel Marble Tombstones with Hearts, little angel tombstones, ordinary tombstones, ordinary tombstones, flat tombstones, etc. When it comes to the quality of headstones, we demand a lot of them and the prices are the most competitive. With over 35 years of experience in designing all kinds of headstones, we are confident that we can select the one that is best for you.