Marble Angel Statues for Graves Memorials Factory Supply MOK1-003
Angel Statues for Grave Details:
The angel statues for grave memorials are carved from natural stone. And, our artists are all hand-carved. These three-dimensional carved decorations are like real ones. We could clearly see that the angel is standing beside the tombstone, with one hand supporting the flowers on the tombstone and the other supporting her forehead. This sculpture is so warm under the autumn leaves. YouFine believes that this angel tombstone would be able to accompany your loved ones for a long time.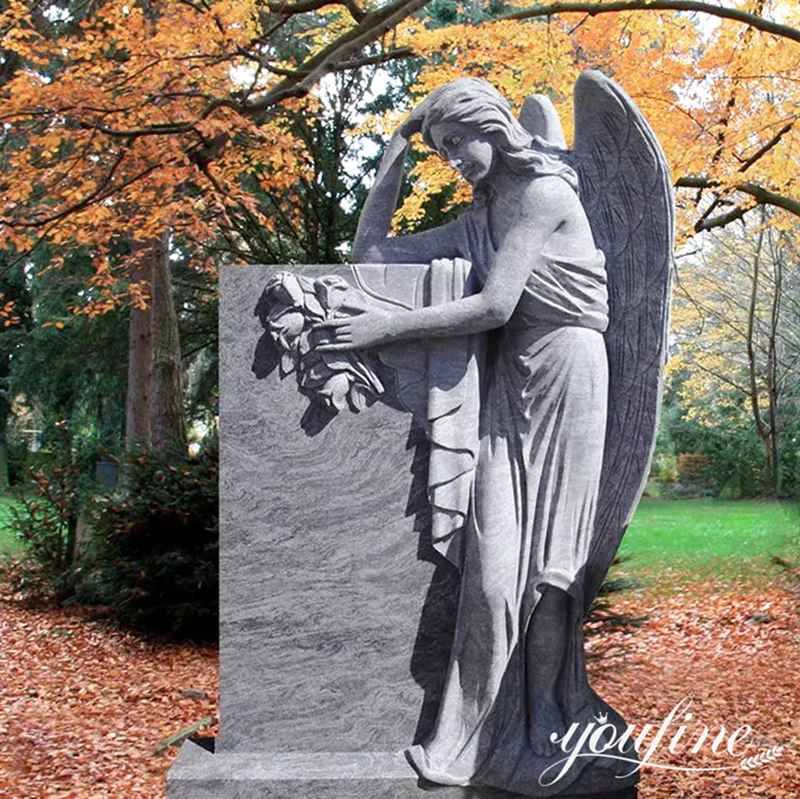 Accept Custom Designs and Sizes:
This angel tombstone design was sent by our client. He found this picture in a magazine and sent it to us. And, he wants us to carve this according to the picture. In addition, we also found more pictures on the Internet and carved this angel tombstone according to the design and size he needed. Our artist has carved a highly restored tombstone sculpture for the customer with a rich carving experience. You could see the end result is pretty amazing. So if you have a tombstone design and size you like, please send it to us. We could engrave according to your desired design and size.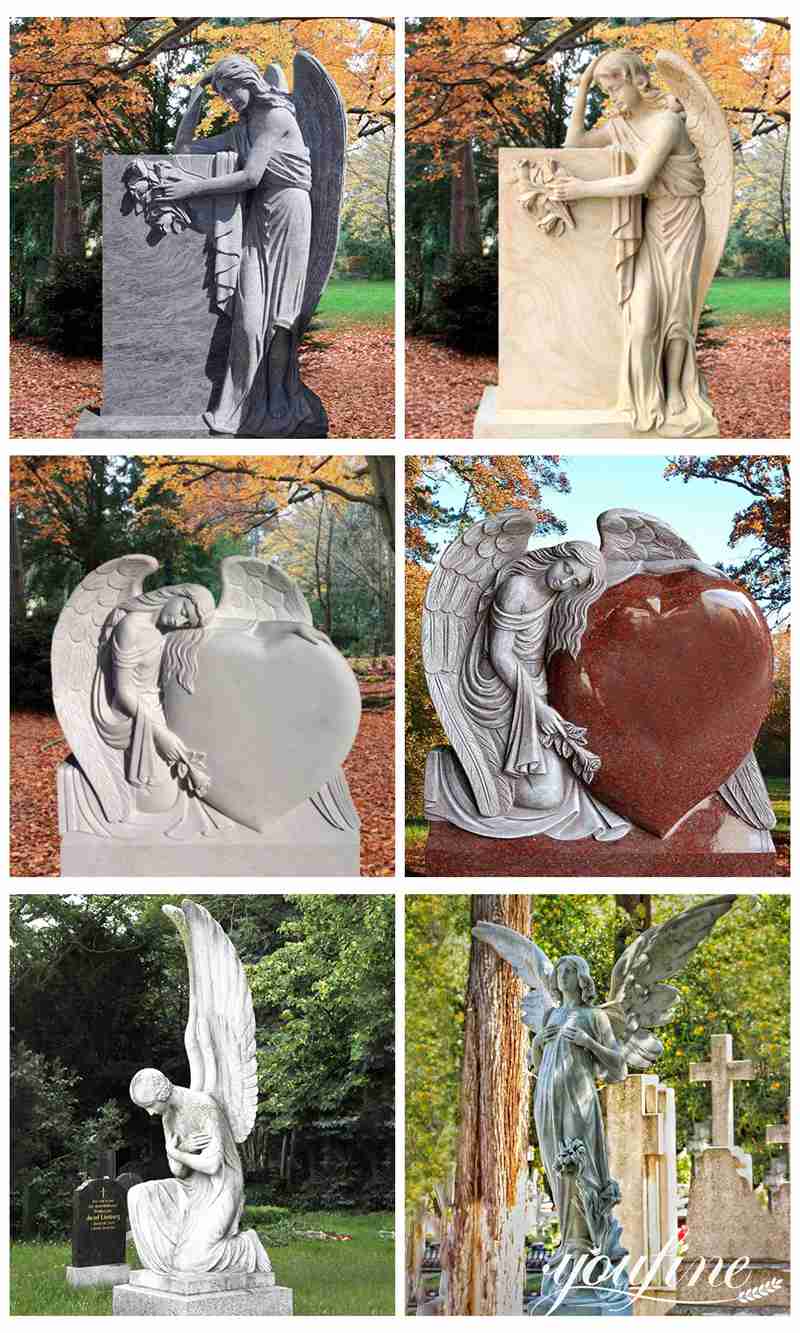 Exquisite Carving Process:
Our factory has more than 39 years of history in this field. We have professional artists carve angel statues for graves memorials. During the carving process, we would send the pictures to our customers for inspection. After finishing the engraving, we would take photos and videos for the customer. Of course, we also have professional polishing and packaging staff. We would make sure the headstones with angels reach your home safely. And, our material is a natural stone, which could resist hot and cold weather. Of course, this stone also makes the tombstone appear more stable.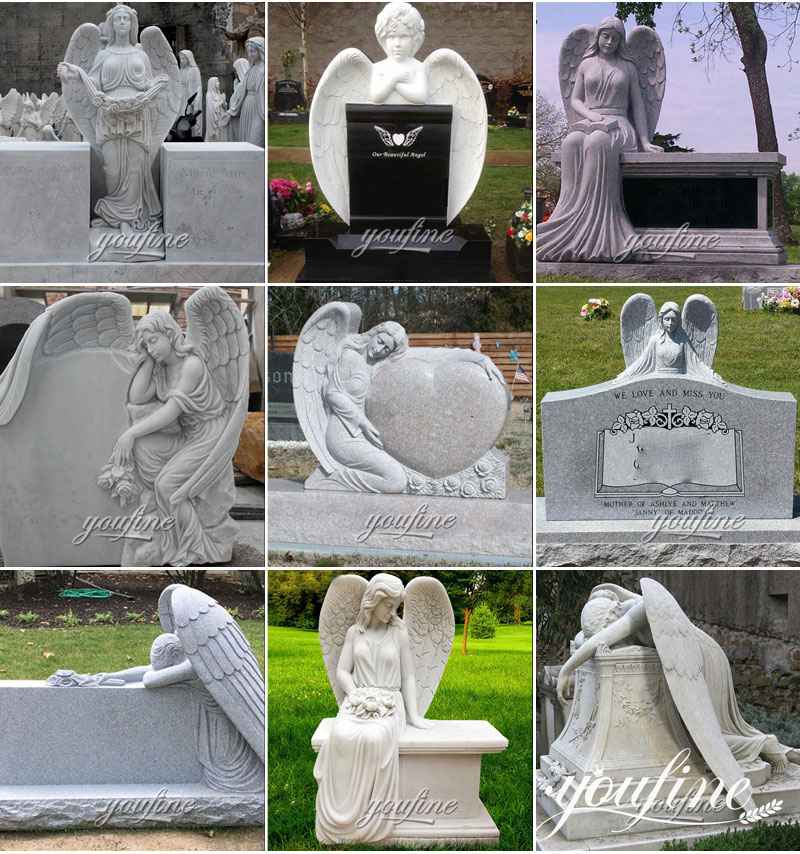 Feedback from Our Customers:
We have numerous clients who are very satisfied with our natural stone tombstones. A lot of people have died in the Covid-19 pandemic. One of them was an American customer who came to us. He said let's carve a tombstone of a Weeping Angel for his wife. We carved a lifesize angel tombstone at his request. After installation, he would send the finished pictures to us for inspection. He was very pleased with our tombstone. He thinks our gravestone comforts his heart and the memory of his wife.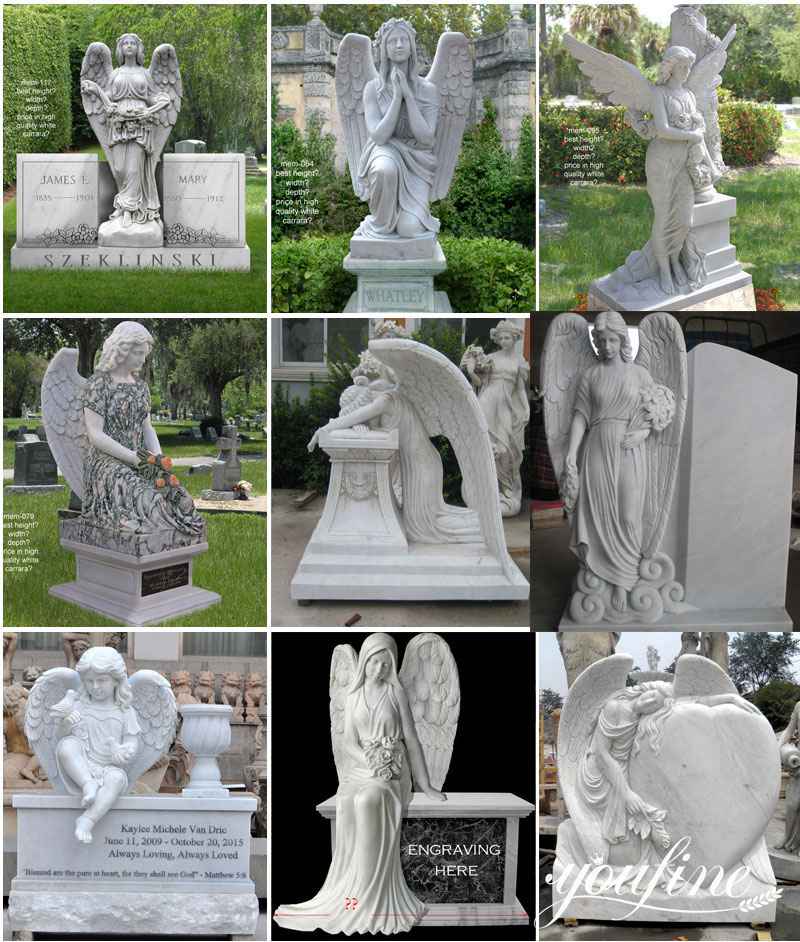 When you see and touch those angel headstones and monuments, you would be moved by the detailed carvings! Please feel free to contact us if you want to customize an angel tombstone.