White Marble Guardian Angel Headstone Monuments for Sale MOKK-985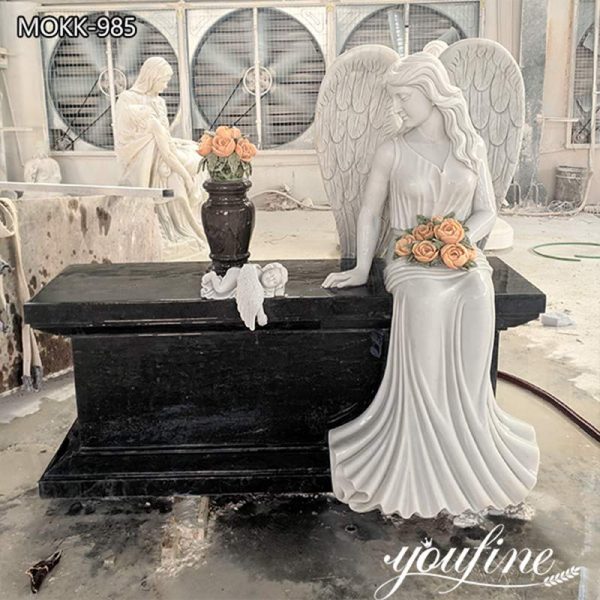 Angel Marble Tombstone Details:
This beautiful white guardian angel headstone marble monument must be the best gift for the dead. The peaceful moments of this beautiful angel are filled with intense emotion. She sat there quietly, looking at a sleeping little angel. Her eyes are so kind, and her delicate wings fascinate us. We would use high-quality natural white marble material to create this stunning tombstone.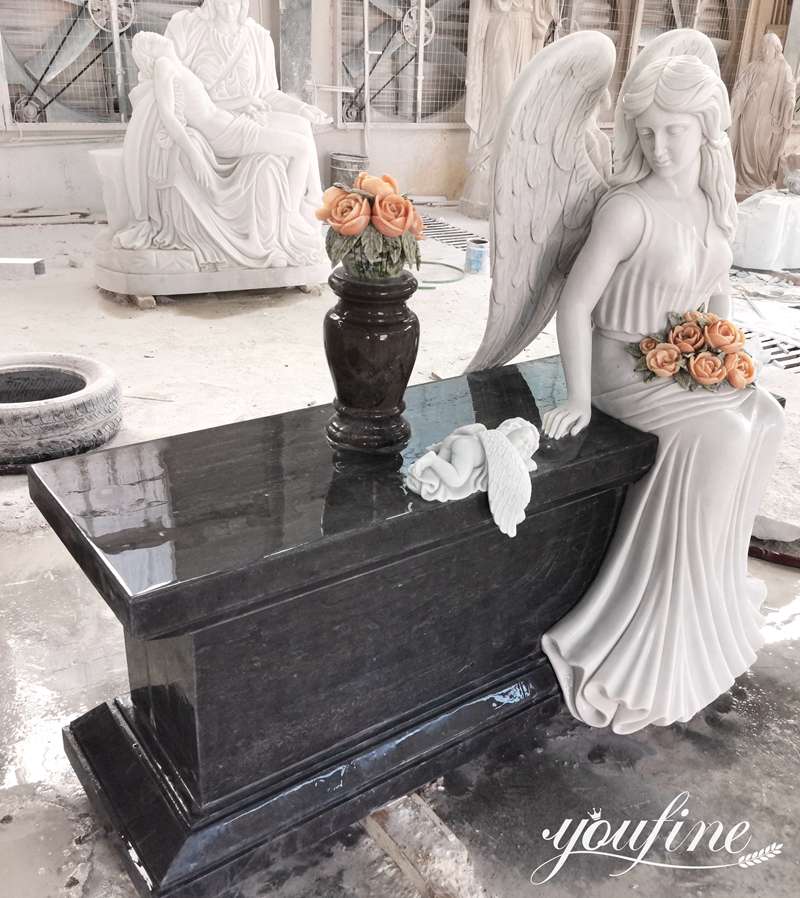 You could clearly see the angel sitting on a black granite tombstone. Our black granite is also a purely natural material. There is also a black flower pot on top of the granite. And, there is also a beautiful bouquet of flowers in the pot. Such a dull cemetery adds some dynamism. See these bright flowers and lovely and beautiful angels when we visit our deceased loved ones. Our mood would not be so sad.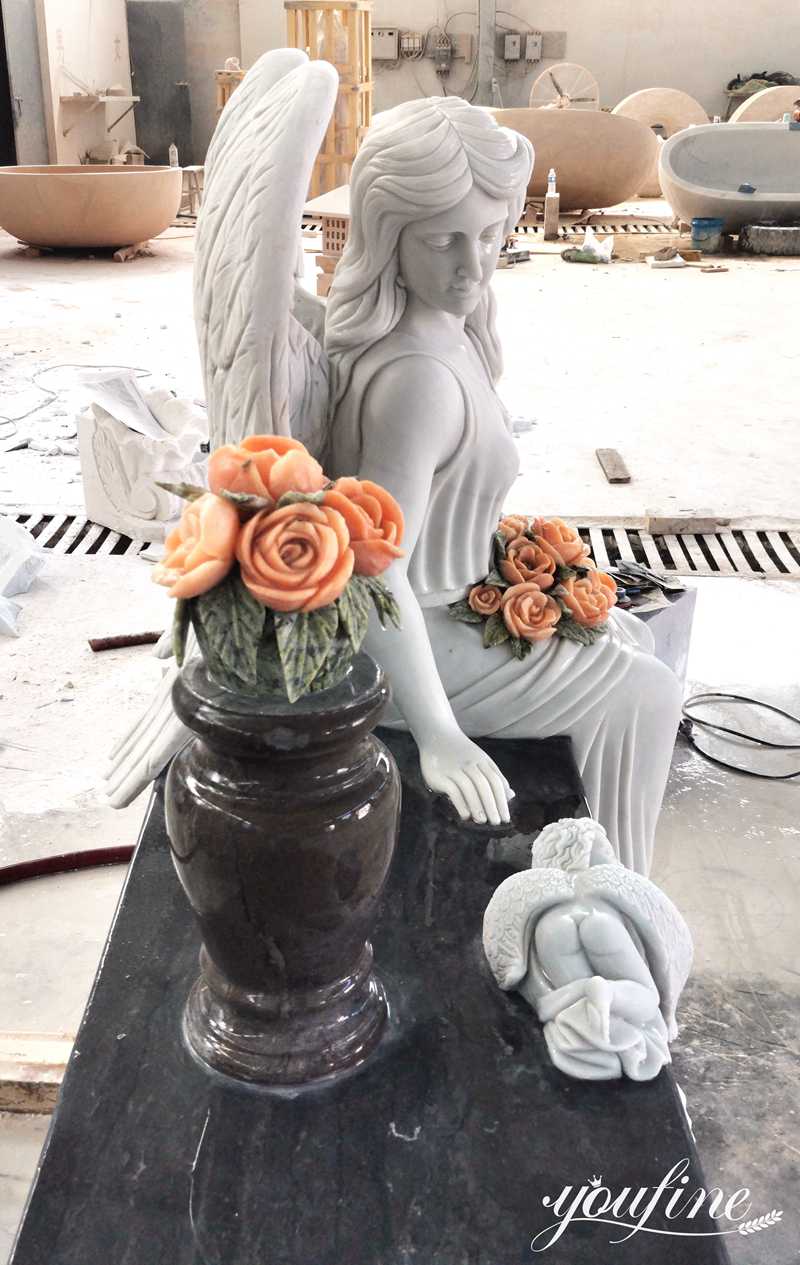 YouFine Accepts Customization:
Of course, we also accept customization. So we could make the size and style you need according to your request. At the same time, we would communicate and confirm with customers in detail about the selection of materials. Of course, our artists could also customize according to your drawings and photos. Secondly, we also have professional designers, you could tell us the tombstone style you want. Our designers could provide you with high-definition 3D drawings. So no matter what kind of tombstone you want in an angel pose, YouFine has you covered.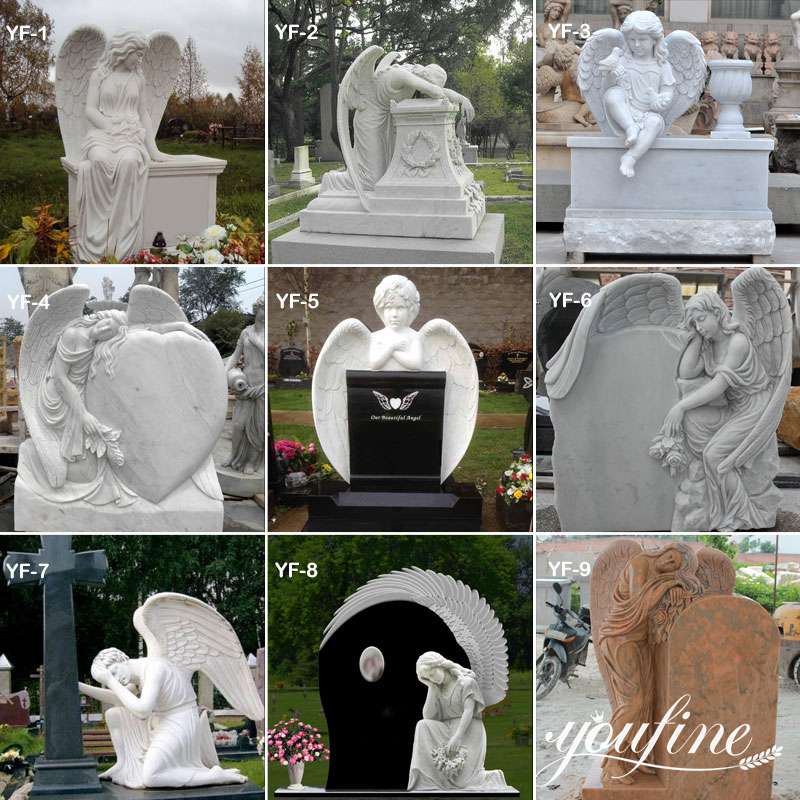 Pure Hand-carving Process:
This immaculate white angel marble monument is so beautiful. The stunning detail is the result of a combination of expert marble sculptors and high-quality natural materials. Every detail of this monument is hand-carved by our professional masters. You could clearly see how beautiful and vivid the angel hair is. And every feather on the angel's wings is also carefully hand-carved by our artists. Especially the beautiful flowers in the hands of the angels, which are also hand-carved by our artists.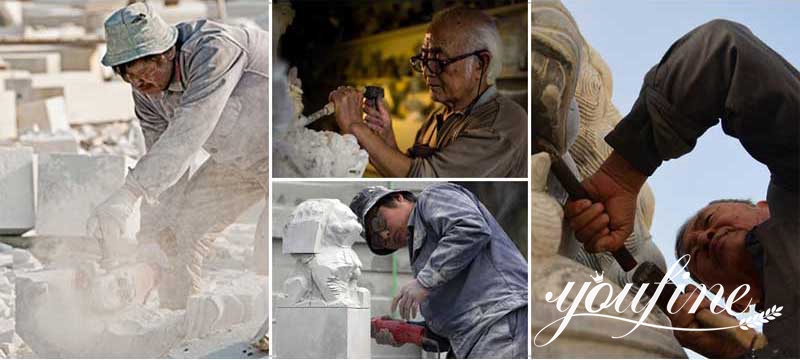 Safe Packaging:
First of all, all our marble sculpture products go through strict quality inspection. Second, our angel tombstones would be strictly packed. First, we would use a standard wooden crate for outer packaging. Second, we'll put soft foam in the box to prevent tombstone bumps. At the same time, we would also thicken the foam where the angel tombstone meets the wooden crate. This would ensure that every part of the tombstone would not be damaged.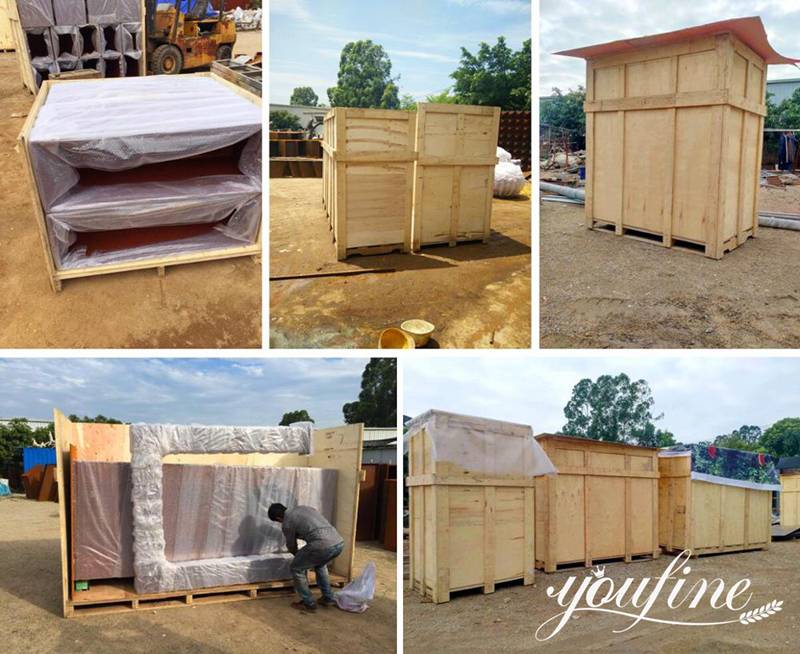 So if you have any questions or are unclear about our hand-carved white angel marble monument. Please contact us as soon as possible. Our staff would be happy to answer your questions.